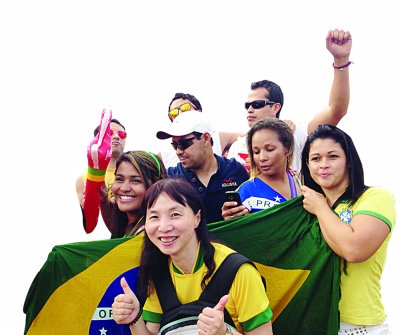 Cai Fang (Front) and Brazilian football fans [Yangtse Evening News]
A Chinese woman with a passion for travel has gone to Brazil by herself to enjoy the FIFA World Cup, despite pointed security warnings from her travel agency before she set out.
Cai Fang, who works in a foreign five-star hotel in Shanghai, had planned to go to the Brazil World Cup with her male friend. Unfortunately, although her friend got his visa to Brazil, he failed to ask for leave from work. Thinking over and over, Cai Fang decided to fly to the World Cup by herself.
As planned, Cai set out from Shanghai on June 6, and will go back to China on June 18, during which she will visit four cities in Brazil. Such a long-distance journey will cost her more than 50,000 yuan (U.S. $ 8,005). With a salary of 10,000 yuan (U.S. $1,609) per month, she said, "I will tighten my belt for the next couple of months when I return China, but it is worth it for a World Cup trip."
Cai Fang said, "I have visited more than 30 countries in the world, Europe, North America, Africa ... So, South America will be not too hard for a single woman like me."
During this journey, Cai's first stop was to fly to Sao Paulo and then she visited the rainforest in Manaus, where four important World Cup games will be played. After that Cai went to the Corcovado Mountain in Rio De Janeiro and now she has flown to Brasilia to watch Switzerland vs. Ecuador game.
When referred to another travel fan she met in Manaus, who was robbed by a mugger, Cai Fang said that as an experienced traveller, whenever she visits a foreign country, she locks her passport in the hotel in case it goes missing or she is robbed. In addition, she would not put all her money in one pocket so that she could not be robbed blind if she encounters a thief. Furthermore, she always has a hidden pocket in her trousers to put her mobile phone and one or two notes of high value.
For this visit to Brazil, Cai had spent several months researching her travel itinerary and as for the expenses, she also needs a few months to earn it back, but she said she isn't worried, because travel is her passion in life. Although the Brazil World Cup started only a few days ago, she has already planned her trip next year to Australia.
(Source: Xinhua / Translated by Women of China)